Sentry's Call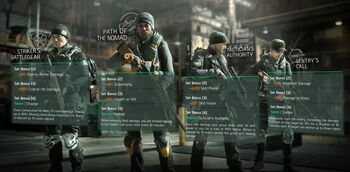 The Sentry's Call gear set is a specialty set released in the Incursions DLC for The Division.
Summary
The Sentry's Call is a marksman/precision build, based around ranged combat. This set has several talents that increase the range and damage at range of various weapons, as well as accuracy over range.
Bonuses
+30% Headshot Damage
+20% Damage to Elites
Talent (Stalker) - Headshots mark the enemy, increasing the damage inflicted on the target by 15% for a duration of 10 seconds each. A target can receive up to three marks.
Drops
Supply Drops can give gloves within this set.
Named enemy Finch can drop the Sentry's Call Gloves.
Named enemy LaRae can drop Sentry's Call Kneepads.