First Wave PF45
First Wave PF45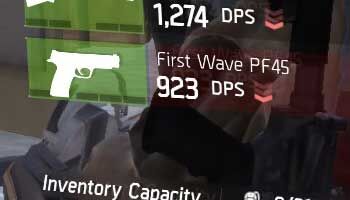 Info
| | |
| --- | --- |
| Type: | |
| DAM: | |
| RPM: | |
| MAG: | |
| Accuracy: | |
| Stability: | |
| Optimal Range: | |
| Average Stat: | |
| Reload Speed: | |
---
The First Wave PF45 is a weapon in Tom Clancy's The Division.
Summary
The PF-45 Liberator is a sidearm. Though it is still relatively powerful, it's not nearly as poweful as the M9, making up for this decrease in power with a slightly higher rate of fire. The First Wave PF45 is a variant on this weapon.
Real Life Counterpart
The PF45 is based off the Smith and Wesson M&P 45, the .45 ACP variant of their popular M&P 40 Handgun
Tips
Because the First Wave PF45 is a pistol, it comes with some specific caveats. While it's more mobile and easier to wield than larger weapons, it has a low mag capacity, and a lower average damage than heavier weapons such as the assault rifle. Pistols should be used in close quarters, and typically as second to more heavy primary weapons.